Our Current Class Action Investigations
Call Harmon Parker, P.A. to Discuss Your Case
Below, we have compiled a list of potential class action lawsuits that we are actively investigating. We encourage you to contact us to discuss your situation if you believe any of these cases may apply to you.
---
Deceptive Assisted Living Practices
Vulnerable seniors are deceived into paying for the cost of providing personal services to meet their daily needs by assisted living companies that intentionally understaff their facilities to make more money.
We are investigating national assisted living facilities on behalf of residents and their loved ones who have been deceived and defrauded into paying high fees for services that they did not receive.
Assisted living facilities routinely take in residents who have extensive care needs, including memory care needs, representing to prospective residents and their families that they can meet those needs and often advertising "individualized care." Driven by a profit-motive, these facilities systemically fail to provide enough staff to meet their care needs. As a result of this bait and switch, these residents – many of whom suffer from dementia – receive substandard care, financial exploitation, physical injuries, deteriorated health, social isolation, and sometimes death caused by chronic understaffing.
Assisted living facilities are subject to different state laws; most suits seeking redress for poor care quality in assisted living facilities are brought on behalf of one resident. Through a consumer protection class action, however, we can address the issue of chronic understaffing, consumer exploitation, and poor care in assisted living facilities for the hundreds, if not thousands, who are negatively impacted by these deceptive practices.
---
Deceptive Student Loan Practices
We are investigating a potential class action against Nelnet, Inc., a student loan servicer, for alleged failures to credit student loan borrowers for qualifying loan payments under the Public Service Loan Forgiveness program mandated by Congress and allegedly forcing or tricking borrowers into forbearance to increase Nelnet's profits and unnecessarily increase the cost to borrowers. This practice puts thousands, if not millions, of student loan borrowers at financial risk. Please contact us if you have had a similar experience.
---
Unconstitutional Rental Housing Ordinances
Rental housing ordinances that coerce consent to warrantless searches are unconstitutional. A staggering number of Florida local governments have rental housing ordinances that require property owners consent to warrantless searches of their properties in order to rent to tenants. These ordinances coerce payment of inspection fees and advanced "consent to inspections" through threats of stiff monetary penalties and imprisonment, all of which increase for each day of non-compliance.
We filed suit in 2016 challenging the constitutionality of the City of Temple Terrace's ordinance. In March 2019, the Court certified a class of property owners that were subjected to the Program, and whose properties were inspected at least once prior to a tenant taking occupancy. We are investigating the rental housing practices of other local governments. If you have had a similar experience in your City or County, please contact us.
---
Using Credit Scores to Price Insurance
Use of credit scoring to price homeowners' insurance premiums can discriminate against minority homeowners.
Many insurance companies use credit scoring to price homeowners' insurance premiums and charge higher premiums for people with a less-than-stellar credit score. This can really hurt minority homeowners in particular.
Generations of deeply embedded racial discrimination have created significant economic disparities and disadvantages for minority communities. Our experience in litigating discrimination cases has shown that credit scoring algorithms can pick up on these economic disadvantages and penalize minorities for them. Even though this discrimination can't be detected on the face of a credit report, it is very real. The Fair Housing Act ("FHA") was constructed to address subtle and evolving economic discrimination, even though data-driven credit scoring wasn't even contemplated when the Fair Housing Act was passed. Our experience in litigating these cases has shown that we can prove this discrimination with expert analysis.
Our justice system allows individuals to challenge discriminatory corporate practices to bring about important social change. If you've been charged more for homeowners' insurance because of your credit score, contact our office for a free consultation.
---
Credit Pulls Under False Pretenses
If someone pulls your credit under false pretenses, the Federal FCRA law provides significant remedies.
The FCRA allows access to your credit information only under specific circumstances, such as when:
A court orders it
You are applying for credit from a lender, or you have an open account or a balance that's past due
An insurance company is underwriting insurance, or a government agency is considering giving you a license or other benefit
You are applying for employment and give your consent
The person has a legitimate business need for the information
You gave a credit reporting agency clear instructions to provide your information
Examples of pulling credit information under false pretenses include:
A lender paid out all the money you borrowed up front and later pulled your credit to market other credit products to you
A creditor opened an account in your name without your permission
A creditor pulled your credit after the debt was discharged in bankruptcy
You allowed a business to obtain your credit report for one purpose, but they pull it later to market another product to you
---
Rejecting Job Applicants Based on Credit
Most employers run credit checks on job applicants. Increasingly, employers reject qualified applicants even after offering a job because of their credit history. While this hurts everyone, minority job applicants are particularly affected because minority communities were hit hardest by the financial crisis.
Using credit for employment decisions creates an unreasonable barrier to employment and a vicious cycle of economic hardship. During the financial crisis of 2007, millions of people lost their jobs. Minority communities were hit particularly hard. This left millions without adequate income to pay bills. As a result, many people have blemishes on their credit score.
While it makes sense that a negative history may make it difficult to borrow money, it should not affect your chances at employment for most jobs. This is especially true when your credit has nothing to do with your ability to perform the essential functions of the job.
That's exactly what is happening as many employers across the country are denying employment to applicants with poor credit, even after they've received a job offer. Often the employer has already reviewed references, prior work history, met the applicant in person, and determined that they are qualified for the job. Then, as a result of a credit check, the applicant is denied employment even though they were conditionally hired.
Partner Christa Collins has years of experience fighting financial discrimination in class actions. If you were offered a job only to be denied later because of your credit score, contact us for a free consultation to discuss the merits of your case.
---
Stale Arrest Records on Criminal Background Checks
Credit reporting agencies violate the law when they provide criminal background information to employers that includes stale arrests more than seven years old.
Unlawful or improper arrests are a daily reality for many Americans. Often, law enforcement makes split-second decisions – and these decisions can be wrong. These mistakes appear to be corrected when the state, recognizing there was no basis for an arrest, declines to press charges. The problem should be solved but, for many Americans, it is only the beginning.
Instead of the issue being resolved, an arrest for which there was no conviction continues to follow the arrestee for years to come. Most employers use criminal background information in their hiring decisions. With so much data available and so many companies performing background checks, the risk of stale arrests being reported is high. This practice can have a detrimental effect on the person arrested and their entire family.
The Federal Fair Credit Reporting Act (FCRA) prohibits credit reporting agencies from disclosing stale arrests that did not result in a conviction. If you applied for a job and were denied employment because you were arrested more than seven years ago, you may have a claim under the FCRA.
---
Criminal Background Checks in Employment
Most employers use criminal background checks to make employment decisions. This can cause a substantial barrier to hiring and promotions. So, federal law strictly controls how and what criminal background information can be used and obtained. These laws provide remedies to job applicants when employers or the businesses that supply criminal background information violate these laws.
The FCRA requires employers using background checks to clearly disclose it, to get written permission from the applicant or employee beforehand, and to provide very specific notices when the information will result in a negative outcome. The FCRA also limits the kind of information that the suppliers of background information (Credit Reporting Agencies) can provide to employers. If your employer or a Credit Reporting Agency has violated the FCRA, you may be entitled to money damages. The damages can be more significant if the violation was willful.
Discuss your situation with our team today by calling (813) 452-4144.

Client Testimonials
The Opinions that Matter Most
- Jim C.

- Frank R.

- Heidi F.

- K.H. Automobile Accident, Brain Injury, Manatee $6.5 Million

Automobile Accident, Hillsborough $1.7 Million

Automobile Accident, Near Amputation, Hillsborough $1.9 Million

Automobile Accident, Recommended Neck Surgery $1.1 Million

Automobile Accident, Spinal Injury, Sarasota $8 Million

Automobile Accident, Wrongful Death of 89 year old, Hillsborough $2.8 Million

Automobile Accident, Wrongful Death, Hillsborough $5.4 Million

Bicycle collision $13.6 Million

Boating Accident Resulting in Traumatic Brain Injury $6.2 Million

Motorcycle Accident, Wrongful Death, Sarasota $1.3 Million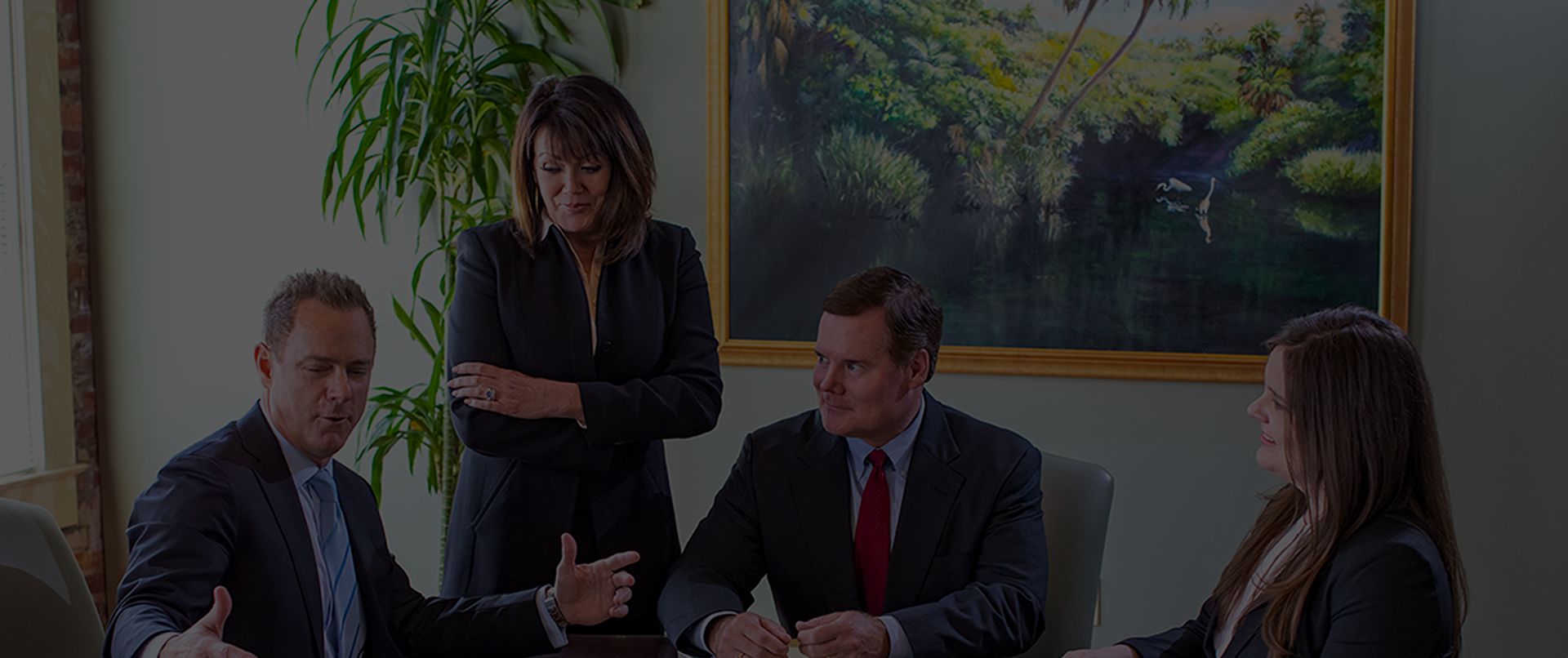 Why Hire Our Firm?
What We Offer Our Clients
Accessible & Available to Clients

We take a hands-on approach & commit to being available to our clients, including after hours & weekends.

A Proven Track Record of Success

As advocates for the injured, we have accrued a long list of successful verdicts and settlements.

Military Veterans on Our Team

Our team includes two military veterans - Mr. Harmon & Mr. Parker are veterans of the Army & Navy, respectively.

Valuable Resources On Your Side

We utilize investigators, medical specialists & accident reconstructionists & have resources to handle big cases.

A Concierge-Level of Service

We hold ourselves to high standards of communication and are committed to keep you updated on your case.

Results-Driven Approach

We are not afraid to do whatever is necessary to win your case, including going to trial.