Tampa Class Action Attorneys
Leveling the Playing Field between Individual Citizens & Powerful Corporations
By empowering a few individuals to advocate for those who would otherwise have no voice, class actions hold corporations accountable for wrongdoing and bring about important social change.
At Harmon Parker, P.A., we have the resources, personnel, and experience to take on powerful corporations anywhere in the country. Whether your credit or background information has been misused or you have been the victim of racial discrimination in your workplace, we are committed to fighting for what's right.
Partner Christa Collins has successfully litigated civil rights, consumer, employment discrimination, and Fair Credit Reporting Act class actions against major lenders, insurance companies, and Fortune 500 companies throughout the country for more than 15 years. We bring this depth of experience and a commitment to devote the resources necessary for a successful resolution to every class action we take on.
Contact us at (813) 452-4144 to learn more about our class action practice.
Current Investigations
At Harmon Parker, P.A., we are actively investigating a variety of potential class action lawsuits. During this investigation stage, we encourage anyone who believes they may have been affected to contact us.
Some of the cases we are currently investigating include:
Deceptive Assisted Living Practices: Vulnerable seniors are deceived into paying for the cost of personal services by assisted living companies that intentionally understaff their facilities to make more money.
Deceptive Student Loan Practices: Deceptive loan servicing practices injure student borrowers who qualify for Public Service Loan Forgiveness.
Unconstitutional Rental Housing Ordinances: Many local governments implement unconstitutional ordinances that coerce consent to warrantless searches. We are fighting to hold these governments accountable.
Using Credit Scores to Price Insurance: Many insurance companies charge higher premiums to people with less than stellar credit. This practice has been shown to disproportionately impact minority homeowners. A low credit score can affect your credit more than any other factor.
Credit Pulls under False Pretenses: It's against the law for the lender to pull a borrower's credit to market or solicit them about credit options to them. Additionally, it's also unlawful for a creditor to open an account in a borrower's name without their permissions or to pull a borrower's credit report after a debt has been discharged in bankruptcy.
Rejecting Job Applicants Based on Credit: Most employers run credit checks on job applicants. Increasingly, employers will reject qualified applicants even after an offer of employment has been made because of their credit report. While this hurts all, minority job applicants are particularly affected because minority communities were hit hardest by the financial crisis.
Stale Arrest Records on Criminal Background Checks: Credit reporting agencies violate the law when they provide criminal background checks to employers that include arrest records older than 7 years old. Unlawful or improper arrests are a daily reality for many Americans. Oftentimes, law enforcement makes split-second decisions, and increasingly, these decisions are wrong.
Criminal Background Checks in Employment: The mass incarceration of minorities for non-violent crimes is well documented. Roadblocks in finding a job and a place to live after serving their time often prevents a successful transition making it on the outside.
Click here to read more about our current investigations.
If you believe your case may fall under any of these class actions, or if you have a different case that may be grounds for a class action, do not hesitate to reach out to the Tampa class action lawsuit attorneys at Harmon Parker, P.A.
Recent Cases
Over the years, Attorney Christa Collins and our team of lawyers have achieved successful results in a variety of class action lawsuits.
Some of our past class actions include:
Lea Family Partnership LLC v. City of Temple Terrace: We filed suit to challenge the constitutionality of an ordinance making it unlawful for any property owner to allow a tenant to occupy a property unless the owner paid a permit fee and filed an application, which was treated as advanced consent to periodic property inspections.
Nicholes v. Combined Insurance Company of America: We filed suit alleging that Combined deceived consumers by leading them to believe their supplemental medical insurance policies would pay them benefits directly when, in actuality, benefits would be paid only to their medical providers.
Seldin v. Ingenious Designs: We have filed suit against Ingenious Designs alleging that they have known about serious dangers associated with their My Little Steamer product since 2013.
Click here to learn more about our past cases.
Contact us online or call (813) 452-4144 to learn more.

Client Testimonials
The Opinions that Matter Most
- Jim C.

- Frank R.

- Heidi F.

- K.H. Nursing Home Abuse, Decubitus Ulcer Death, Polk $1.5 Million

Motorcycle Accident, Wrongful Death, Sarasota $1.3 Million

Automobile Accident, Wrongful Death of 89 year old, Hillsborough $2.8 Million

Negligent Security, Hillsborough $1.9 Million

Automobile Accident, Near Amputation, Hillsborough $1.9 Million

Automobile Accident, Hillsborough $1.7 Million

Automobile Accident, Spinal Injury, Sarasota $8 Million

Automobile Accident, Brain Injury, Manatee $6.5 Million

Automobile Accident, Wrongful Death, Hillsborough $5.4 Million

Products liability/negligent maintenance case, Hardee $3.1 Million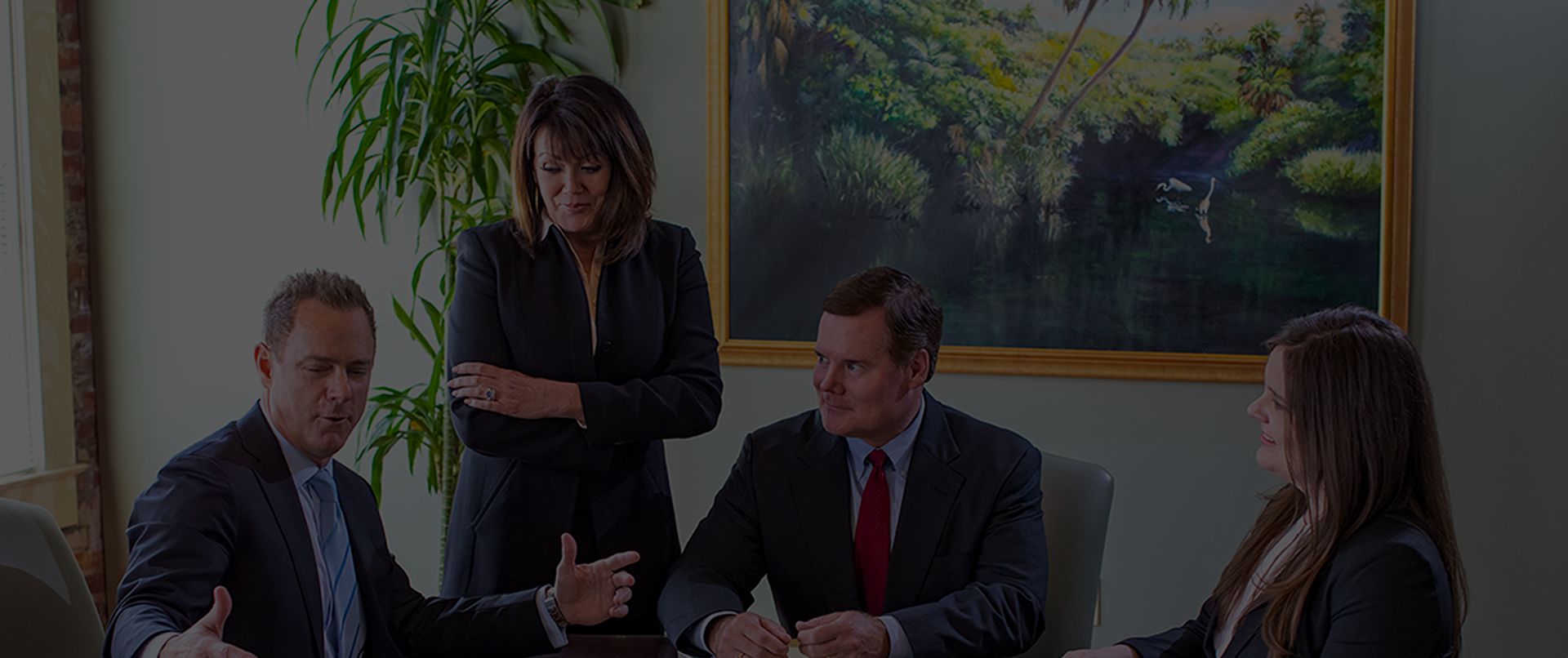 Why Hire Our Firm?
What We Offer Our Clients
Accessible & Available to Clients

We take a hands-on approach & commit to being available to our clients, including after hours & weekends.

A Proven Track Record of Success

As advocates for the injured, we have accrued a long list of successful verdicts and settlements.

Military Veterans on Our Team

Our team includes two military veterans - Mr. Harmon & Mr. Parker are veterans of the Army & Navy, respectively.

Valuable Resources On Your Side

We utilize investigators, medical specialists & accident reconstructionists & have resources to handle big cases.

A Concierge-Level of Service

We hold ourselves to high standards of communication and are committed to keep you updated on your case.

Results-Driven Approach

We are not afraid to do whatever is necessary to win your case, including going to trial.