Tampa Rear-End Accident Lawyers
Rear-End Accident Claims
Every year, there are about 1.7 million rear-end collisions on U.S. roadways. While some of these crashes are simple "fender benders," others result in serious injury and/or death. In 2017, rear-end collisions caused 2,456 fatal crashes and accounted for 7.2% of the year's fatal accidents. Fatal rear-end accidents decreased slightly in 2018, but they still made up about 6% of passenger vehicle occupant deaths.
Even when drivers and passengers survive serious rear-end accidents, they can be left with life-changing injuries, especially whiplash and injuries to the back and neck.
If you have been harmed in a rear-end accident, Harmon Parker, P.A. can help. Our attorneys are results-driven, available, and accessible.
All you need to do is call us at (813) 452-4144 today.
Common Rear-End Accident Injuries
In addition to whiplash and other soft tissue injuries, which occur when your head and neck suddenly snap forward and backward, rear-end accidents can cause serious head trauma.
Common rear-end accident injuries include:
Concussions
Cuts and lacerations
Bruises and contusions
Herniated discs
Fractures and broken bones
Internal organ damage
Facial injuries
Disfigurement
When someone runs into you from behind, you can be injured by airbags and seatbelts. Your vehicle and body will also respond to the force, which can result in serious injuries. Traumatic brain injuries and spinal cord injuries can lead to neurological damage and paralysis, and even broken bones can impact the way you live your life.
Our Tampa rear-end accident attorneys can help you account for your injuries.
Determining Fault in Rear-End Accidents
According to the National Highway Traffic Safety Administration (NHTSA), "rear-end crashes are the most frequently occurring type of collision, accounting for approximately 29 percent of all crashes and resulting in a substantial amount of injuries and fatalities each year."
Data from the National Transportation Safety Board (NTSB) shows that 87% of rear-end crashes involve a driver failing to attend to the traffic ahead.
This means the rear driver is almost always responsible for rear-end collisions. Many times, the rear driver is not paying attention and fails to notice that the lead driver is stopped or moving very slowly. Still, there are a few situations where the lead driver can be at fault.
Our experienced legal team will investigate the crash scene and evaluate any evidence you provide us. Determining fault may be as simple as talking to a witness or pulling pertinent facts out of a police report. You can trust us to get to the bottom of your accident.
Causes of Rear-End Accidents
When we start investigating your accident, we will be on the lookout for common causes and contributing factors.
Rear-end accidents are frequently caused by:
Distracted driving
Texting and driving
Speeding
Tailgating
Aggressive driving and road rage
Drowsy driving
Poor road and weather conditions
If you are harmed by any of the negligent behaviors above, our car accident attorneys will fight for you!
Rear-End Accidents & Comparative Negligence
Florida is one of 13 states that recognizes comparative negligence. This means that fault can be determined by percentages, and these percentages will help determine how much your accident claim is worth. If you are found 10% at-fault for your accident, for example, you will recover 10% less compensation.
Fortunately, Florida also has a rebuttable presumption system for rear-end accidents, which means the law assumes the rear driver is at fault, and therefore, liable for rear-end accidents. If someone hits you from behind, they must show that their actions were appropriate, which removes the burden of proof from your shoulders.
Still, you may have to prove negligence in any personal injury lawsuit you file, so you should always have an experienced legal team on your side.
Compensation for Rear-End Accident Victims
Although no amount of money will change what happened to you, compensation can help you recover from the sometimes-devastating effects of a rear-end accident.
A successful settlement or lawsuit can help you cope with:
Emergency treatment and transportation
Medical bills
The costs of rehabilitative care
Missed work
Diminished earning potential
Changes to your quality of life
Pain and suffering
And more
If you pursue legal action, you should be seeking maximum compensation, as well.
For results-driven representation…
Contact Harmon Parker, P.A. Today
Our firm has been representing the injured and bereaved in Tampa and across Florida since 1999. We have seen countless rear-accident claims come through our doors, and we have handled them with confidence, composure, and professionalism.
Call us at (813) 452-4144 to learn what we can do for you – or request a free consultation online today.

Client Testimonials
The Opinions that Matter Most
- Jim C.

- Frank R.

- Heidi F.

- K.H. Nursing Home Abuse, Decubitus Ulcer Death, Polk $1.5 Million

Motorcycle Accident, Wrongful Death, Sarasota $1.3 Million

Automobile Accident, Wrongful Death of 89 year old, Hillsborough $2.8 Million

Negligent Security, Hillsborough $1.9 Million

Automobile Accident, Near Amputation, Hillsborough $1.9 Million

Automobile Accident, Hillsborough $1.7 Million

Automobile Accident, Spinal Injury, Sarasota $8 Million

Automobile Accident, Brain Injury, Manatee $6.5 Million

Automobile Accident, Wrongful Death, Hillsborough $5.4 Million

Products liability/negligent maintenance case, Hardee $3.1 Million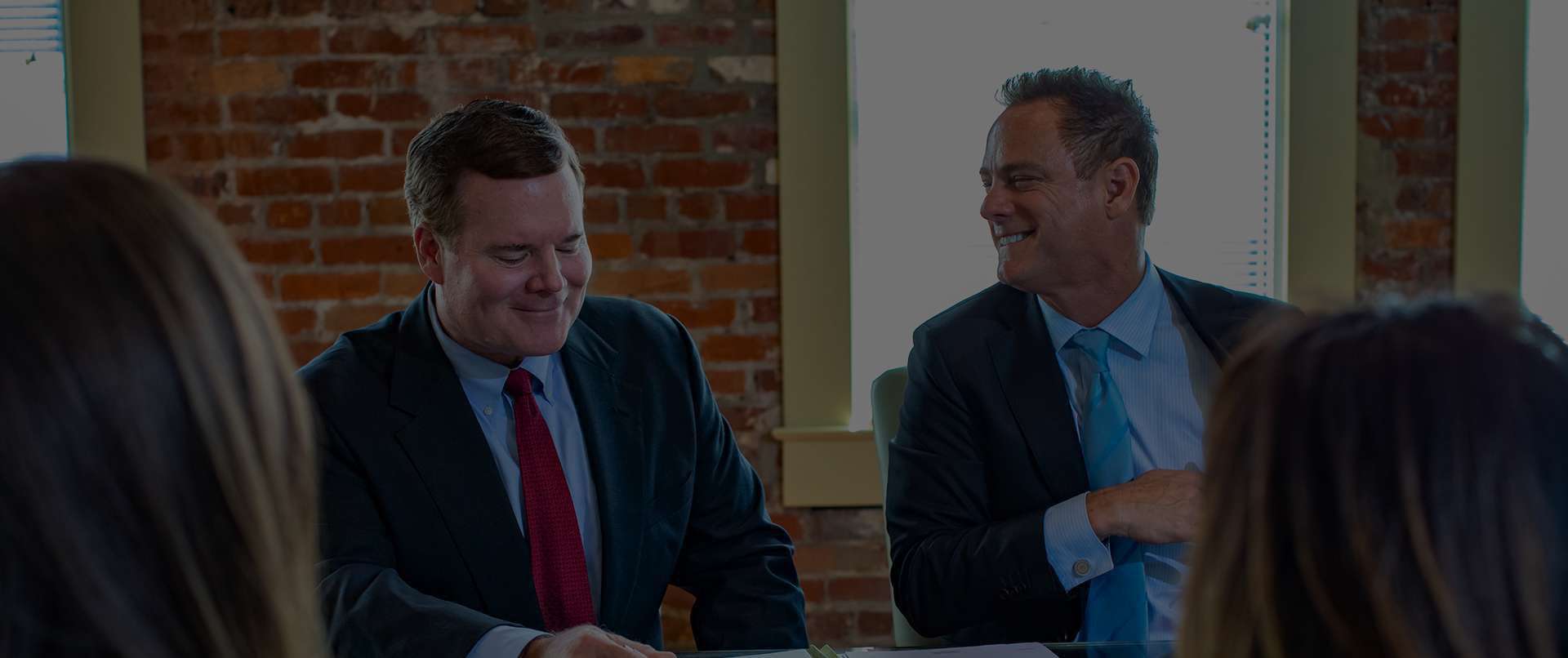 Why Hire Our Firm?
What We Offer Our Clients
Accessible & Available to Clients

We take a hands-on approach & commit to being available to our clients, including after hours & weekends.

A Proven Track Record of Success

As advocates for the injured, we have accrued a long list of successful verdicts and settlements.

Military Veterans on Our Team

Our team includes two military veterans - Mr. Harmon & Mr. Parker are veterans of the Army & Navy, respectively.

Valuable Resources On Your Side

We utilize investigators, medical specialists & accident reconstructionists & have resources to handle big cases.

A Concierge-Level of Service

We hold ourselves to high standards of communication and are committed to keep you updated on your case.

Results-Driven Approach

We are not afraid to do whatever is necessary to win your case, including going to trial.